Those of you that have been reading for a while will already know that the adults in this house are physically dropping to bits with varying different conditions it can be hard some weeks to keep motivated on trying to stay even a little bit active!
On our recent holiday with Ollie in total agony (and only this week discovering that he has a ruptured disc or two in his back!) we decided that we had to try a family session of bowling … I know it's not like an evening of cross-country running but hell being active in any way possible is better than remaining on the sofa … right? (where we have spent way too much time of recent months)
So The Oliver's hit the bowling alley and with Joshua having never been bowling before he was totally excited and he wanted not only his own go but also to 'help' everyone else!
It was so lovely to get up and moving as a family and spend some much-needed quality time together to boot!
I think in the grand scheme of who won … I think it's the taking part that counts right ?? … and that we got to spend some time together new things for some and practicing old skills for others was just what this family needed!
If you would like to join in with Active Family feel free to link up there are no set criteria. As long as its active physically and its about your family, be it your children, your aunt or your whole family, inside or out, walking, running, jumping, biking, at the gym, or running laps of the living room, or even something more adventurous feel free to add the badge and link up and share. (If you would like more information you can find it HERE)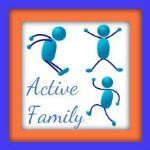 Loading InLinkz ...