Over recent months Ollie (hubby) has been in pain, he is suffering with back issues and this has led to him being less mobile than normal.
The one thing my little guy has missed with his Dad being in lots of pain, has been football.
Most afternoons my little guy waits patiently for his Daddy to get home from work and one of the first things he asks is if he can go out and play football. For months Joshua has made do with doing some craft activities or some reading or even some wooden track construction.
Things changed this week and Daddy hobbled his way to the bottom of the garden for some football fun with Joshua … needless to say I think both of them throughly enjoyed it! We are now keeping our fingers crossed that there will lots more football in our house … ok maybe not house … I think in order to keep my sanity outside will do nicely.
Have you been active this week?
If you would like to join in with Active Family feel free to link up there are no set criteria. If its active and its about your family, be it your children, your aunt or your whole family, inside or out, walking, running, jumping, biking, at the gym, or running laps of the living room, or even something more adventurous feel free to add the badge and link up and share. (If you would like more information you can find it HERE)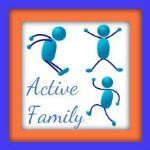 Loading InLinkz ...