Over the last year or so I have seen some fantastic adventures from others while they take their families Geocacing locally and around the country such as Elaine from Fun as Gran who can often be found Geocaching and writing about her Geocaching adventures and being lovers of getting out in the fresh air and with the promise of having a go … we will have never been.
So this coming week I am going to finally bite the bullet and I am planning our very first adventure.
Perhaps the child in me is still fascinated with treasure hunts and exploring and so with my love of technology and treasure hunts I really don't know why I haven't done this before!
Having signed up and logged in I am shocked to find 17 basic Geocaches in my village and on the outskirts of the next village … and with lots showing for the more advanced caches too I think there maybe many more adventures to be had.
I am hoping Joshua loves it too as everyone needs a sidekick don't they? And what a great way for him to grow up, quality time, outside and exercise, triple bonus!
If you would like to join in with Active Family feel free to link up there are no set criteria. If its active and its about your family, be it your children, your aunt or your whole family, inside or out, walking, running, jumping, biking, at the gym, or running laps of the living room, or even something more adventurous feel free to add the badge and link up and share. (If you would like more information you can find it HERE)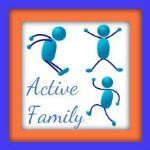 Loading InLinkz ...