Well it seem the school holidays are well and truly in full swing and with it means trying new things and trying to keep active.
Earlier this week my #52LittleThings challenge had been to go for a bike ride or a swim. We had decided that swimming was going to occur on Ollie's next day off but the Kiddimoto balance bike had been chosen and was on route to The Oliver's Madhouse for Joshua to finally get his very first bike.
So Joshua's first thoughts on getting a new bike, helmet and gloves was nothing short of pure unadulterated excitement ….. unfortunately it didn't last long….
It seems on Joshua's maiden voyage he decided instantly that he couldn't do it and he actually threw down his bike and cried, declaring he couldn't do it. Trust me when I say this but this almighty temper tantrum has been the most epic so far this school holidays and that included from the teen too!
So after the initial meltdown subsided we tried again with him and after an uncertain few minutes it seems he is now on his official journey to learn to ride a bike.
Training begins in earnest from here on in!

So have you been active this week? If you have children can they ride a bike yet?
If you would like to join in with Active Family feel free to link up there are no set criteria. If its active and its about your family, be it your children, your aunt or your whole family, inside or out, walking, running, jumping, biking, at the gym, or running laps of the living room, or even something more adventurous feel free to add the badge and link up and share. (If you would like more information you can find it HERE)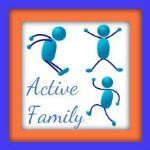 Loading InLinkz ...
Disclaimer: We were given a Kiddimoto Bike to use to record Joshua's bike riding journey. All Opinions were independently formed by members of The Oliver's Madhouse