This last week I have made more of an effort to get motivated and and moving. Although it may not have been running marathons, I have made a concerted effort to include the smallest member of the household and do something!
With funds super tight this week its been about finding time to get out without too much expense. So with that in mind and a break in the rain we headed to the local park for some fresh air and some climbing.
When we got there I have to admit I found myself feeling somewhat guilty at the recollection that the last time Joshua and I been to the park was months ago! .. I have no excuse so I wont attempt to justify, all I can say is that the look on his face as he bounced round that park really is going to motivate me to get out and about to the park with him more often.
I think next time we might try taking out bikes …

What activities have you been up to this week?
If you would like to join in with Active Family feel free to link up there are no set criteria. If its active and its about your family, be it your children, your aunt or your whole family, inside or out, walking, running, jumping, biking, at the gym, or running laps of the living room, or even something more adventurous feel free to add the badge and link up and share. (If you would like more information you can find it HERE)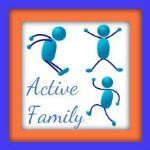 Loading InLinkz ...