Its that time of the week where I reflect on how active we have been and this week has not been our most active .. but this is a good thing, it means we can make changes to what we are planning next week to make sure it slots into what we are doing without making excuses.
So with that in mind next week my personal fitness plan should be back on track.
I am now planning to up my aqua aerobics and attend 2 classes next week, 2 yoga sessions, bums, tums and thighs class and I have fallen out of love with Pilates – although that being said I think its more down to the fact the woman's voice is beyond irritating and she concentrates on working her own abs as opposed to supporting others to do it … *climbing down off soap box*
Next week I am also planning on finally getting our outside adventures into full swing, after initially being rained out, next week I am planning a forest walk/ride with the kids especially as Joshua needs all the practice he can get on his new balance bike.
I certainly think planning our activities in makes it easier to take control and be proactive.
What activities have you been up to this week?
If you would like to join in with Active Family feel free to link up there are no set criteria. If its active and its about your family, be it your children, your aunt or your whole family, inside or out, walking, running, jumping, biking, at the gym, or running laps of the living room, or even something more adventurous feel free to add the badge and link up and share. (If you would like more information you can find it HERE)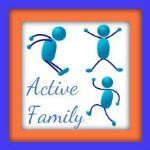 Loading InLinkz ...