This week in the midst of getting into the routine of school and work something magic happened ….
My little guy finally cracked how to pedal.
This may not be amazing or news worthy for some but for me it's altogether another story.
Earlier in the year we reviewed this tractor and Joshua although loving it, really struggled to pedal in fact he gave up trying and just scooted about using his feet.
It has been a very stressful Summer with him continually trying to pedal but just not getting it and the most he had managed had been the odd pedal backwards.
This week my little guy dragged out his tractor once again, jumped on and set off on a full pedal!
Needless to say there were cheers and applause all round, along with some gigantic smiles from his lordship himself!
I know this is only a small milestone but for a bike loving family this is a giant pedal in the right direction and one I can't help but get really excited with!
Today the garden tomorrow the world!
Have you been active this week?
If you would like to join in with Active Family feel free to link up there are no set criteria. If its active and its about your family, be it your children, your aunt or your whole family, inside or out, walking, running, jumping, biking, at the gym, or running laps of the living room, or even something more adventurous feel free to add the badge and link up and share. (If you would like more information you can find it HERE)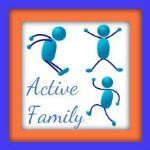 Loading InLinkz ...