It will come as no surprise to my regular readers that in fact I have been super busy at home and on my blog.
however great thats been it has not left a lot of time for is 'me' time. When time allowed, we have been making the most of getting out as a family and being active, trying new things and new places. However after initially losing 4.5 stones and then giving up smoking last October my weight had skyrocketed and I had put 2.5 stones back on.
This week with a little nudge in the right direction from the AXA PPP healthcare #52littlethings challenge I finally have started my fitness revamp and I have put my best foot forward to try some new exercises that I can also learn and hopefully try at home too …. maybe someone at home will want to join in too?
So this week for me has been all about Aqua Aerobics, Pilates, Aerobics and Yoga … you know me I never do things by halves …
I have loved feeling more energised and focussed this week I have even loved the niggly achiness that comes with pushing my muscles.
It has been a really tough week physically but also mentally too, I have spent a long time hiding behind the fat and forgetting what its like to be me .. the old Jaime had been suffocating behind a stone or 5, and its been easy to keep my head there and not push myself out my comfort zone.
Well now I am ready to make changes ……..
If you would like to join in with Active Family feel free to link up there are no set criteria. If its active and its about your family, be it your children, your aunt or your whole family, inside or out, walking, running, jumping, biking, at the gym, or running laps of the living room, or even something more adventurous feel free to add the badge and link up and share. (If you would like more information you can find it HERE)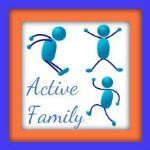 Loading InLinkz ...