This week while on my mission to get a better balance with work and home life we were super fortunate to get out and about in the beautiful seaside village of Staithes.
My parents have visited Staithes previously and on the last holiday they had we were invited to come along for the weekend to sample the views for ourselves, unfortunately we were actually on holiday ourselves and were unable to tag along.
A few months ago when they booked again we were invited to go for the weekend and we had been really excited.
On arriving I can honestly say I have never visited such a beautiful village before, but I was shocked at just how steep Staithes actually was!
Even having to have a rest halfway up I have to say it was a killer of a hill, the way down it was so steep in parts you had to be careful not to go with the momentum or you could have ended up running!
After 2 days and multiple trips up and down that amazing hill I have to say that day 3 lead me to have the most tender calf muscles I have had in a long while!
The seaside air and even that hill if I am honest has reinvigorated my love of the outdoors and I cant wait to plan the next outing … although probably not costal the fresh Autumn air is certainly doing something for my energy levels!
Have you been busy and active this week?
If you would like to join in with Active Family feel free to link up there are no set criteria. If its active and its about your family, be it your children, your aunt or your whole family, inside or out, walking, running, jumping, biking, at the gym, or running laps of the living room, or even something more adventurous feel free to add the badge and link up and share. (If you would like more information you can find it HERE)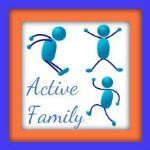 Loading InLinkz ...