Thats it folks the teen has broken up for the Summer holidays and I am now frantically panicking deciding what to do with the teen and toddler for the next week.
Those of you that follow some of my other social media feeds will have seen that of recent weeks I am upping the exercise anti and have started lots of new classes in the hopes that I will find my exercise calling and find those classes that challenge me and don't bore the pants off me.
I have now whittled my regular classes down to pilates, yoga and aqua aerobics … and I have even enjoyed them and look forward to the next class.
Although having slightly digressed I think its still massively important for my children to see me going and being active on my own as it is for them to be physically active.
I am not a massive fan of the water (I used to be before kids?) but this summer I am going to make a more of an effort in taking to the water .. not just the aerobics classes but also swimming with the teen and toddler at the local pool.
Our local pool is normally out of bounds during the daytime as its joined to a school and they have access throughout the day and so evenings and weekends are only ever an option until the school holidays! …
Although Bethany is really fab in the water and always has been, Joshua is still lacking in confidence so we really need to make swimming more a part of our lifestyle .. not only is it healthy its a life skill!
So I have decided that at least once a week we will aim to go swimming even if its only for an hour. Also Joshua has his trust swim jacket we got from Konfidence so its a shame to not make the most of the water.
Do you like swimming? how about your children or grandkids .. do they or did they have lessons or just regular swims with you?
If you would like to join in with Active Family feel free to link up there are no set criteria. If its active and its about your family, be it your children, your aunt or your whole family, inside or out, walking, running, jumping, biking, at the gym, or running laps of the living room, or even something more adventurous feel free to add the badge and link up and share. (If you would like more information you can find it HERE)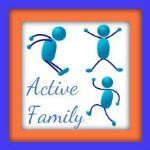 Loading InLinkz ...