This week the weather has ranged from glorious sunshine, rain, hail, snow and wind .. not the most envious of climates currently but with a Joshua chomping at the bit to take his new football outside, Ollie relented and took Joshua for some full on Football Coaching.
Before getting their coats on there was a little bit of sulking and this time from Joshua (age 3) not Ollie (hubs) since Grandma bought some lovely goals for Christmas, but with only an hour or so before turning dark and rain imminent it really was make or break on being able to get out before it was time to come in!
So with some degree of resentment at being told no goals until the weekend the men folk headed off to try out the new ball.
I have to say I am not sure which of my men folk was more excited at being out there in full training mode .. However the grin on Dad's face said it all as Joshua rampaged up and down the garden with ball and Dad coaching from the side lines .. While taking photographs!


I have never really thought about football being a family event but I am seriously thinking I might be able to give my men folk a run for their money … and join in with some tackling and some ball skills. However I am not sure my hubs would like me encroaching on his passion .. so maybe instead I will just be the ball fetcher and the sideline runner with warm drinks, bandages and tissues to dry my husbands tears when Joshua thrashes him some more.
Although maybe its time for some bike riding training for the boy and I to build up his strength and stamina! … Ok maybe that would be just me and my unfitness!
If you would like to join in with Active Family feel free to link up there are no set criteria. If its active and its about your family, be it your children, your aunt or your whole family, inside or out, walking, running, jumping, biking, at the gym, or running laps of the living room, or even something more adventurous feel free to add the badge and link up and share. (If you would like more information you can find it HERE)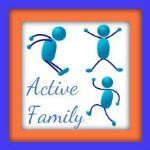 Loading InLinkz ...