Happy Monday and Happy Magic Moments!
Firstly I would like to say a massive sorry to the last 10 people to link up on last weeks #MagicMoments … I have not forgotten you and will start my rounds reading this week with you. Unfortunately life got in the way for me last week and with deadlines and my final assignment needing to be completed earlier than anticipated for my course something had to give. This week I promise to be far more prompt with visiting!
I have been selected as a Semi-Finalist in the FAMILY category for the (BiB's) Brilliance in Blogging Awards! and I am so thankful for each and every vote that got me there … but I still need your help! If you enjoy reading I would appreciate your support with another vote ….. Don't worry voting closes in a few days so I wont be asking to much longer!
For anyone visiting for the first time and would like to link up you can find more information HERE It would be great to see you linking up and sharing your #MagicMoments
Don't forget that linkys only work when people take the time to visit and share with others. With such a large crowd linking in please don't think you have to comment on every one. I know many of you don't have time for this and it's unrealistic, however please visit as many as you can manage.
If you would like to join in I would love it if you would pop on the Magic Moments badge or a link back to me and I will happily share your post on twitter. It also helps others to see where you are linking up and they may decided to pop over and link up too! Remember the more people that take part and link up, the more people that are likely to visit.
If you would like to join the Magic Moments Group on Google+ feel free to pop over and join the community over there too.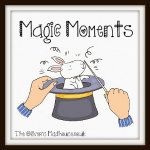 Loading InLinkz ...