Happy Monday!!
Thank you everyone for taking part and for all the sharing that is happening over on Twitter and  amongst yourselves on Magic Moments Group on Google+.
With only being the second link up of the year now is probably a great time to reiterate that this is not a link dump type of link up.  As harsh as it sounds there have been several people link up in the past that have neither taken the time to visit others, nor have they linked a blog post that could be connected even slightly to anything magic for them us or cat.
I really don't want to be a moaning Minnie nor do I want to alienate anyone but please only link up if you have some time to visit others after all this is the whole idea behind a linky, I don't think its unreasonable (please bare in mind I don't expect you to visit every single other post just what you can manage)
After some comments from others over the last few week/months, If the blog post quite clearly is not a Magic Moment for you I will remove the link.
Although I don't want to be mean there is a really amazing community within this link up and I don't want people wasting their time reading a blog post that is not relevant to the theme of this linky. After all this is why people link up they want to read magic posts … not hints and tips that show no relevance of magic to that person, to the reader or their cat either (thats only an example, but I am sure you guys get my drift)
For anyone visiting for the first time and would like to link up you can find more information about the linky HERE It would be great to see you linking up and sharing your #MagicMoments
If you would like to participate, I would love it if you would pop on the Magic Moments badge or a link back to me  and I will happily share your post on twitter (it's also massively helpful if you have sharing buttons on your blogs too). I am also happy to RT your link if you would like to tweet it to me.  Adding a badge/link also helps others to see where you are linking up and they may decided to pop over and link up too! Remember the more people who take part and link up, the more people who are likely to visit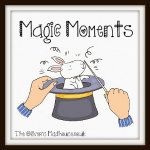 So let the magic roll …….