Happy Monday ….. I am back … did you miss me?
I have no doubt you didn't, as the lovely Victoria from Verily Victoria Vocalises makes for a super linky host and for that I would like to say a massive Thank You to her for help with Magic Moments for me last week.
Also I would love to thank my lovely guest bloggers from last week who honoured me with some beautiful posts. Thank you Emily at Emily Davies Writes, Clare from Emmy's Mummy & Harry's Too and also Sarah from The Puffin Diaries
This week I am certainly counting down to Britmums Live .. with some of you attending in a few days I cant wait to meet some of you for the first time and also meet those of you again that I had the pleasure of meeting last year too, please do look out for me there and say hello.
Being a finalist in the BiB awards too is going to be a super exciting, if not very nerve-wracking too!
I also want to give you the heads up that Monday 23rd June there will be NO MAGIC MOMENTS THAT WEEK as with being in London for the weekend I will need to spend some time with my family when I return … there is only so many fredo's I can feed them, before sulking may begin … and thats just the toddler!
So back to Magic Moments, for anyone visiting for the first time and would like to link up you can find more information HERE It would be great to see you linking up and sharing your #MagicMoments
Don't forget that linkys only work when people take the time to visit and share with others. With such a large crowd linking in please don't think you have to comment on every one. I know many of you don't have time for this and it's unrealistic, however please visit as many as you can manage to share some love and build community spirit.
If you would like to join in I would love it if you would pop on the Magic Moments badge or a link back to me and I will happily share your post on twitter. It also helps others to see where you are linking up and they may decided to pop over and link up too! Remember the more people who take part and link up, the more people who are likely to visit.
If you would like to join the Magic Moments Group on Google+ feel free to pop over and join the community over there too.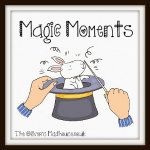 Loading InLinkz ...