Happy Monday!
I am hoping you all had a lovely weekend with the UK finally getting some sunshine it was nice to see the Children enjoying it.
Once again the first thing I need to do is to say sorry once again as I am playing catch up and so I still have yet to get round some of your posts from last week but please bear with me and I will get there in the end!
I had a lovely regular freelance job offer come through and it took me away from reading but I now have a timetable for some of my work which will be really helpful. I have to say it was like a #MagicMoment in itself when it came through.
For anyone visiting for the first time and would like to link up you can find more information HERE It would be great to see you linking up and sharing your #MagicMoments
Don't forget that linkys only work when people take the time to visit and share with others. With such a large crowd linking in please don't think you have to comment on every one. I know many of you don't have time for this and it's unrealistic, however please visit as many as you can manage.
If you would like to join in I would love it if you would pop on the Magic Moments badge or a link back to me and I will happily share your post on twitter. It also helps others to see where you are linking up and they may decided to pop over and link up too! Remember the more people who take part and link up, the more people who are likely to visit.
If you would like to join the Magic Moments Group on Google+ feel free to pop over and join the community over there too.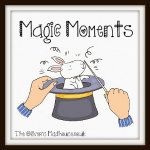 Loading InLinkz ...