I had some exciting new last week that I am finally going to get my much awaited surgery … this Friday so in light of that next weeks link up will be hosted by the lovely
Kate from Family Fever who I have no doubt will take fantastic care of you in my absence!
Before I head off to read you're amazing posts this week I do have a massive ask.
The blogging awards season is underway in the form of the BiB's (Brilliance in Blogging awards) and I would love to be considered if you would like to vote …. I am not going to lie … I don't have millions to bribe you with but I would be most grateful.
Now back to Magic Moments!
If you are tweeting me this week please don't forget my twitter account is … @JaimeOliverUK so if your new here just to let you know you are welcome to tweet me your link throughout the week and I will happily retweet you, but please only tweet me with your #MagicMoments post link, as much as I would love to share all you posts written in the week there are only so many hours in a day.
Don't forget there is a Magic Moments page on Google+ to, so if you are on G+ feel free to pop over and add your link and visit too.
If you are new to Magic Moments you can find more information over HERE.
Don't forget that linkys only work when people take the time to visit and share with others. With such a large crowd linking in please don't think you have to comment on every one. I know many of you don't have time for this and it's unrealistic, however please visit as many as you can manage to share some love and build community spirit.
If you would like to join in I would love it if you would pop on the Magic Moments badge or a link back to me as it also helps others to see where you are linking up and they may decided to pop over and link up too! Remember the more people who take part and link up, the more people who are likely to visit, but this is only a polite request not a prerequisite.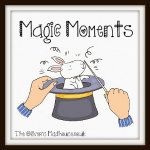 Loading InLinkz ...