Happy Monday one and all!
This week I will be visiting you all throughout the week as I have some other engagements such as college work and a room to decorate. Please do not fear I will certainly get round to you all.
In my absence this week I am hosting some amazing post by some amazing bloggers. first kicking off the guests posts for this week is the lovely Rachel from Activities 4 Kidz followed by the super Tarana from Sand In My Toes. If you have a few minutes to spare this week I am sure they would love a read and a visit.
Now back to Magic Moments …….
Don't forget that linkys only work when people take the time to visit and share with others. With such a large crowd linking in please don't think you have to comment on every one. I know many of you don't have time for this and it's unrealistic, however please visit as many as you can manage.
For anyone visiting for the first time and would like to link up you can find more information HERE It would be great to see you linking up and sharing your #MagicMoments
If you would like to participate I would love it if you would pop on the Magic Moments badge or a link back to me and I will happily share your post on twitter. It also helps others to see where you are linking up and they may decided to pop over and link up too! Remember the more people who take part and link up, the more people who are likely to visit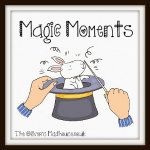 © 2014, theoliversmadhouse.co.uk. All rights reserved.