Happy Monday ….. I am back from my week off and I am feeling much more together and refreshed and I am sure you will be pleased to know that I am back on top reading form too.
Since having some time to reflect over the last week and a bit I have decided I am going to trial a new way of sharing the #MagicMoments posts.
Now this has come about by the the link ups size .. with having such a large group linking up for me to read and tweet it was taking a day and half of pure reading and sharing. In itself I don't mind doing but with some not having matching twitter names or sharing buttons it was beginning to encroach into the 2nd afternoon and with then the possibility of 2 days being spent solely on Magic Moments I felt this was a slight unfair balance and so I am trying to readdress things.
Please let me assure you all that its not because I have fell out of love with Magic Moments or you guys, but it needs to eat less of my time and I have allocated one day to spend on this linky ……. gosh I am feeling rather awful about it now I have typed it!
So for the trial period I am going to suggest that you may tweet me your links throughout the week several times if you would like to and I will happily retweet you every time you do .. (please don't tweet me every post .. just the Magic Moments one)
I am also going to share your links on the Magic Moments Link up page on Google + so if you are on G+ it would be fab to see you guys over there too I will try and tag you on G+ if I know your account but if not I will still post over on the groups wall too and feel free to tag yourself and shout up so I will know for next time.
I am also endeavouring to get round and read all you posts (I am aiming for a Monday but if family life crops up I will try and get to the posts asap after that)
So back to Magic Moments…. that is if I haven't upset you ….
Don't forget that linkys only work when people take the time to visit and share with others. With such a large crowd linking in please don't think you have to comment on every one. I know many of you don't have time for this and it's unrealistic, however please visit as many as you can manage to share some love and build community spirit.
If you would like to join in I would love it if you would pop on the Magic Moments badge or a link back to me as it also helps others to see where you are linking up and they may decided to pop over and link up too! Remember the more people who take part and link up, the more people who are likely to visit, but its only a polite request not a prerequisite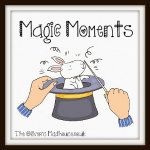 Loading InLinkz ...