Happy Monday .. More to the point Happy Bank Holiday Monday!!
I am not a massive fan of blowing my own trumpet or for selling myself. I would much rather grab Pepsi Max, cake and my fat pants and read what is going off around me, however last week people had other ideas when they very kindly voted for me in the prestigious BiB awards and I got selected as a semi finalist in the Family category next to 15 other bloggers who all are amazing! .. needless to say it blew my mind and there were tears .. although fear I may have embarrassed myself with the mention of Tena on last weeks thank you post although I am sure the cake made up for it?!
So here it is … If you like my blog and you have yet to vote I would most certainly be honoured if you could consider voting for me for this prestigious award…. ok thanks for listening to be drone on!
For anyone visiting for the first time and would like to link up you can find more information HERE It would be great to see you linking up and sharing your #MagicMoments
Don't forget that linkys only work when people take the time to visit and share with others. With such a large crowd linking in please don't think you have to comment on every one. I know many of you don't have time for this and it's unrealistic, however please visit as many as you can manage.
If you would like to join in I would love it if you would pop on the Magic Moments badge or a link back to me and I will happily share your post on twitter. It also helps others to see where you are linking up and they may decided to pop over and link up too! Remember the more people that take part and link up, the more people that are likely to visit.
If you would like to join the Magic Moments Group on Google+ feel free to pop over and join the community over there too.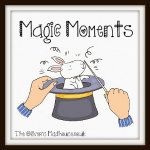 Loading InLinkz ...