Can you believe its now October!! .. where did that last 10 months go?!
Its been a busy week here, and its due to get busier next weekend as we have the privilege of having a weekend away so the lovely Ellie from The Mummy Diary will be once again hosting in my absence and I am sure she will more than look after you.
Before starting this weeks link up I do have to say that there has been an increase in people linking and disappearing … 'Link Dumping' now don't get me wrong there are times and I am the first to admit things get in the way and I am often late doing the rounds, however there have been several people linking up with multiple entries, not visiting anyone else and also are linking up with posts that are not MAGIC MOMENTS …
Magic Moments can be found all around us, even the small things that we may normally miss… and everyones is different, however some posts are never going to be magic.
If you are have a more generalised post there are many blog hops and link up that are not specific and there is a list of them in the linky's I love tab above. If there are any more links going forward I will be deleting them as they are affecting what Magic Moments is about and also it is unfair on those that are linking up and visiting others.
Sorry for the man but felt that in order to maintain its integrity as not only a link up but a mini community to I thought it best to say. I do hope I haven't offended anyone as that is not my intention.
So on with this weeks Magic Moments…….
Feel free to tweet me your links throughout the week several times if you would like and I will happily retweet you every time you do .. (please don't tweet me every post you write this week .. just the Magic Moments one you linked up)
Don't forget there is a Magic Moments page on Google+ to, so if you are on G+ feel free to pop over and add your link and visit … also I have just created a Magic Moments collaborative Pintrest board too which you are more than welcome to pin your post onto too! Feel free to email me directly ( jaime@theoliversmadhouse.co.uk ) so I can make sure I am following and that I can add you to the board too.
If you are new to Magic Moments you can find more information over HERE.
Don't forget that linkys only work when people take the time to visit and share with others. With such a large crowd linking in please don't think you have to comment on every one. I know many of you don't have time for this and it's unrealistic, however please visit as many as you can manage to share some love and build community spirit.
If you would like to join in I would love it if you would pop on the Magic Moments badge or a link back to me as it also helps others to see where you are linking up and they may decided to pop over and link up too! Remember the more people who take part and link up, the more people who are likely to visit, but this is only a polite request not a prerequisite.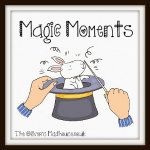 Loading InLinkz ...