Well hello there!
We really are getting into the festive spirit over here at The Oliver's Madhouse, which has left me a little behind my reading.
That being the case I have a couple of weeks of Magic Moments to read so please bear with me while I play catch up.
Just a heads up, but during the festive season I normally take some time off from hosting Magic Moments in order to make magic moments happen over here with my family.
Fear not however as the lovely Ellie from The Mummy Diary will be jumping in to keep the magic flowing this year and she will be hosting Magic Moments for W/C 22/12/14 & 29/12/14 and then Magic Moments will return to me in the new year.
So for the next 2 weeks lets roll with Magic Moments ………..
Once you have linked up feel free to tweet me your links throughout the week several times if you would like and I will happily retweet you every time you do .. (please don't tweet me every post you write this week .. just the Magic Moments one you linked up)
Don't forget there is a Magic Moments page on Google+ to, so if you are on G+ feel free to pop over and add your link and visit too.
If you are new to Magic Moments you can find more information over HERE.
Don't forget that linkys only work when people take the time to visit and share with others. With such a large crowd linking in please don't think you have to comment on every one. I know many of you don't have time for this and it's unrealistic, however please visit as many as you can manage to share some love and build community spirit.
If you would like to join in I would love it if you would pop on the Magic Moments badge or a link back to me as it also helps others to see where you are linking up and they may decided to pop over and link up too! Remember the more people who take part and link up, the more people who are likely to visit, but this is only a polite request not a prerequisite.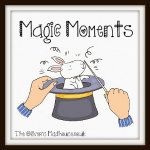 Loading InLinkz ...