Well hello there!
Good morning and first up today I need to say …. I am back with avengence! … through the holidays I have been playing catch up with commenting and last weeks I have yet to start … please bare with me I have cyber cake and I am willing to share!
This week I am back on top form as Beth is back at school and also today Joshua starts his 15 hours of nursery .. although staying at the same one I paid for privately a couple of mornings a week before this time he is going for 2.5 days and I have officially coined those days as my work days …. so hand on heart I will be using some of those today by catching up with last weeks and this weeks visits ..
So here is to a happy week to everyone and lets let the Magic Moments roll ….
Feel free to tweet me your links throughout the week several times if you would like and I will happily retweet you every time you do .. (please don't tweet me every post you write this week .. just the Magic Moments one you linked up)
Don't forget there is a Magic Moments page on Google+ to, so if you are on G+ it would be great to see you over there.
If you are new to Magic Moments you can find more information over HERE.
Don't forget that linkys only work when people take the time to visit and share with others. With such a large crowd linking in please don't think you have to comment on every one. I know many of you don't have time for this and it's unrealistic, however please visit as many as you can manage to share some love and build community spirit.
If you would like to join in I would love it if you would pop on the Magic Moments badge or a link back to me as it also helps others to see where you are linking up and they may decided to pop over and link up too! Remember the more people who take part and link up, the more people who are likely to visit, but its only a polite request not a prerequisite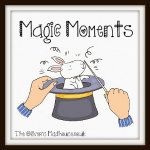 Loading InLinkz ...