I am super honoured to be hosting this weeks #PoCoLo link up for Vicky from Verily Victoria Vocalises this weekend. For those of you that don't know Vicky is off to the MAD Blog Award Finals in London as she is one of 5 amazing finalists in the 'Most Innovative Blog' category. It is a fantastic achievement and I for one am wishing her well and will be watching the twitter feeds and the live streaming with baited breath tonight.
So, if you haven't linked before, Post Comment Love is all about sharing a post which you have written this week which just hasn't got the attention it deserves. This is one of the easiest links EVER.
You don't have a 'special theme' to have to write about, the post can be personal, sponsored, a photo, a review, a competition, your own linky, something you've linked to a linky….WHATEVER you like! The only rules are that you comment on at least two of the other posts in the link (maybe the one above and one below yours?!)
Also, don't forget to display the PoCoLo Badge (code below) the more people who see it, the more people may want to join in and the more attention your  post will get.
Vicky has a list for the Newbie Showcase running into February 2014! If you would like to be featured then please do get in touch with Vicky (vickywelton@hotmail.com) so she can put you on the rota. Remember, your blog needs to be under a year old to feature
Now this weeks Newbie Showcase – Is the lovely Emily
Well, hello!
My name is Emily, and I blog over at www.emilydavieswrites.com. When I started my maternity leave at the beginning of the year I was determined to make a go of this blogging lark. As a trained journalist and editor I was determined that motherhood was my opportunity to build the beginnings of a glittering freelance career and my chance to stay home, look after baby and be my own boss. And what does every writer need? A blog!
When I first started out, I wasn't sure what to write about. Should it be a professional showcase? Should I specialise in a particular area? Should I be a Mummy Blogger? Should I focus in on what I've always written about or try to diversify outside of my niche? So many questions! Well, nine months, a house move and the arrival of our baby daughter later and my blog has evolved into my cosy bit of cyber space. I blog about parenthood, crafts, homemaking and interiors and all the things I love. And if you love those things too, then I hope you might enjoy it! (And that freelance career? Well… it's a slow burner but I am getting there!).
Blog: emilydavieswrites.com
Twitter: emilydavies85
Google+: Emily Davies
So now go forth and PoCoLo people ………. oh yeah HAPPY WEEKEND 🙂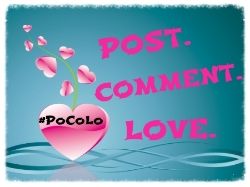 <div align="center"><a href="http://www.vevivos.com/post-comment-love" title="Prose for Thought"><img src=" http://i1322.photobucket.com/albums/u568/ToriWel/4e4a1bf6-07cb-494b-b06e-f959b1fe1311_zps654d027a.jpg" alt="Post Comment Love" style="border:none;" /></a></div>