I made a pledge recently that I would get fit and my dream of doing that by going to the gym and learn to run has pretty much fallen on inactive bones as I have been overrun with work .. and it has made it easier to avoid the fact that I am not getting any thinner .. nor am I feeling healthier.
I am also going to get my outfit together for the Britmums Live conference and I am worried that my only option maybe the plus sized clothing shops again.
Don't get me wrong there is nothing wrong with plus sized … I had just made a pledge that wanted to be able to easily buy my clothes from a standard size store for the first time in a long time.
So now I need to get my head round that fact … although with the weight of work slowly lifting even if the weight round my waist isn't, I am hoping that in the coming weeks I can stop hiding behind the pile of papers and my computer screen and get into a more healthy rhythm… well here is hoping anyway?
If you would like to join in with Active Family feel free to link up there are no set criteria, as long as its active physically and its about your family, be it your children, your aunt or your whole family, inside or out, walking, running, jumping, biking, at the gym, or running laps of the living room, or even something more adventurous feel free to add the badge and link up and share. (If you would like more information you can find it HERE)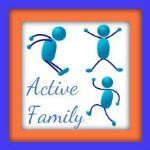 Loading InLinkz ...